Epilogue
One Year Later

After a combined twenty-three hours of ground and air travel from Portland to Buenos Aires, I couldn't get out of the plane fast enough––last year I lagged behind my fellow business class group. I dashed though immigration, customs, and the exit lobby where, unlike last year no one was waiting for me. As the cab weaves through traffic and horns blare nearby, it dawns on me that the thought of my own death no longer frightens me. I recognize how much I have grown into being a woman alone in the world.
I have returned to this Recoleta neighborhood in search of affinity, the new living compass I've developed during my second year without Carlos. With this inner sensor I can better follow my own subtle advice. Affinity tells me whether places and people are good for me. When I sense lack of affinity, I withdraw. Carlos' advice has become second nature to me; I do only what I want to do––as much as possible.
I feel total affinity walking along the wide streets and avenues of Buenos Aires, with their full view of the blue skies I think about when I am not here. And those institutions of my personal connection are here too: Café Dos Escudos and Café La Biela. They are essential for my wellbeing every single day of my stay. My days begin as a blank slate now; mornings and afternoons unfold organically—not forced one way or another by habit. Today does too.
It is my birthday; no celebrations are planned. This is the first re-birthday of my separate self. From the apartment window I am watching the beautiful terraced gardens of the Hyatt Buenos Aires Hotel and decide to take myself there for breakfast. The server asks if I am celebrating a special occasion. I smile, "I am replicating a birthday my husband gave me here three years ago." She nods without comment.
At the end of the meal, she brings out a pastry called "Snickers Tart," made with chocolate, marshmallow cream, caramel, salted peanuts, and a chocolate caramel frosting—with an elongated white candle sticking out of the top. I ate it all.
After this memorable breakfast I take the stairs back down the terraces, and head to my session with Dr. Novelli, just three blocks away. This year I greet him with a kiss on the cheek, and plop down into the same green couch. I am beaming. He finds the story of today's birthday to be a gold mine of my big and small changes.
Therapy, I comment, threw light on how things were interconnected, and how I couldn't resolve one issue without resolving the other. It was a balancing act of many interacting forces with roots in the unconscious. Before I left Buenos Aires, my inner emotional changes were becoming manifested in self-enhancing thoughts and behaviors. And my problems with tango, which pained me so deeply, gradually eased as my self-esteem recovered and I stayed away from toxic company. Last year I went tiptoeing around undeserving people; today I enjoy saying No to them.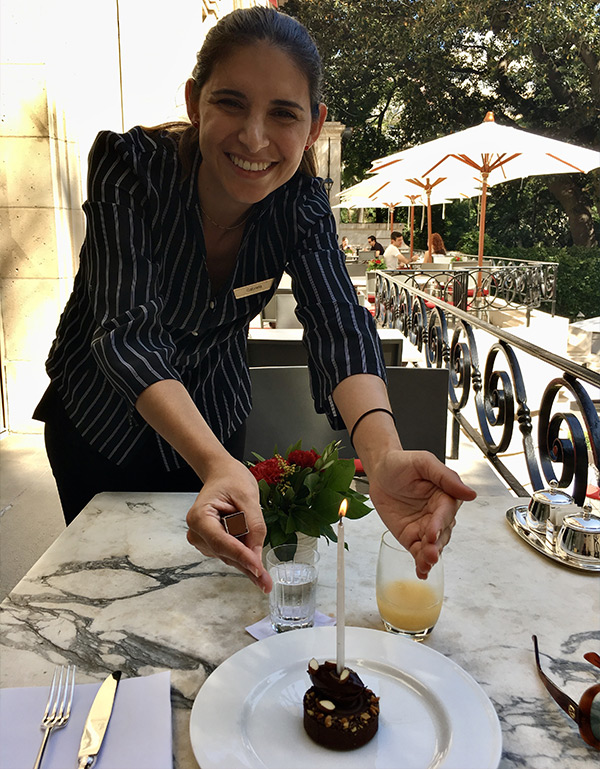 Soon thereafter I took a lesson with Pedro, my tango teacher: he validated my changes now embedded in my body: "Beatriz, your dance is on a different planet this year. You followed everything I led. You feel secure, you feel light. Your balance has improved one hundred percent. Now: we are going to refine some things…"